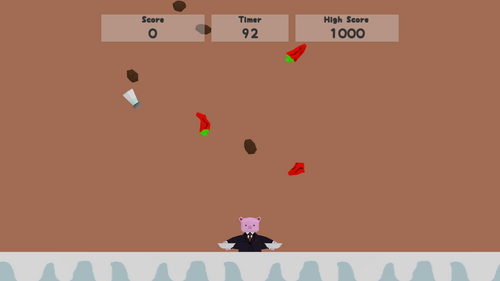 Introducing Super Souper, an action-arcade Eat 'Em Up featuring a picky pig in a suit. Collect ingredients based on what our protagonist Porkston likes at the start of the game, and eat em when you're good and ready to score points. The game ends when time is up, so act fast! Eating stuff Porkston likes or is fine with will increase the point value of the soup and even give you time bonuses, but eating stuff he hates will lower your score, so be careful what you eat.
This initial version was made for BGSjamXIII, and is likely hosting a few bugs right now. You might notice trouble even controlling the game (it was designed initially for a homemade arcade stick), though I hope to have this fixed later today. Additionally I plan to put some more hours into it over the course of the month, with the big goals being music, more food, and balance fixes.
Like/hate the game? Let me know! Hope you enjoy it, and shoot me any feedback you might have to help me make it a better little game.

Files
super-souper-windows-x64.zip
16 MB
super-souper-windows-x64.zip
16 MB